This article, Daemon D. Kain, is the property of Jet.
Daemon D. Kain
Statistics
Japanese Name:
デーモン·D·カイン
Romanized Name:
Dēmon·D·Kain
English Name:
Daemon D. Kain (uncut dub);
Daemon D. Kain (Viz, FUNimation subs)
First Appearance:
Unknown
Affiliations:
Revolutionary Army
Occupations:
Revolutionary member; Swordsman
Japanese VA:
None
4kids English VA:
None
Funi English VA:
None
Age:
18
Birthday:
18 February
Height:
187 cm (6'1")
Bounty:
33,000,000
Devil Fruit
Japanese Name:
Hito Hito no Mi, Model: Shade
English Name:
Human Human Fruit Shade Model(Viz);
Human Human Fruit: Model Shade(FUNimation)
Meaning:
Shade (A mythological creature said to be the spirit of a man living in the underworld.)
Type:
Mythical Zoan
Daemon D. Kain (デーモン·D·カイン, Dēmon·D·Kain) is a Revolutionary, originally from North Blue.
Appearance
Edit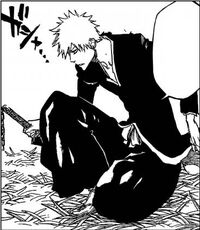 Kain is a tall, lean young man with peach skin and brown eyes. The most striking feature about his appearance is his spiky orange hair, a trait that has caused him to face a great deal of ridicule and even animosity from others. He clothing consists of a white shitagi, a black kosode, a black hakama, a white hakama-himo, white tabi, and waraji. Below all this his torso and arms are tightly wrapped in plain white bandages.
Personality
Edit
Relationships
Edit
Power and Abilities
Edit
Abilities
Edit
Appearance based off Ichigo Kurosaki from the series Bleach.