Welcome
Welcome to the One Piece Fanon wiki!
Are you a fan of the One Piece franchise? Have you ever wanted to create your own pirate, marine or even your own devil fruit? Well, look no further, because your dream has finally arrived. We only ask that you provide us with your best effort and nothing less. Enjoy your stay!
We currently have 4,625 edits to 506 articles and 619 images on this wiki.

January 2012

- Evangeline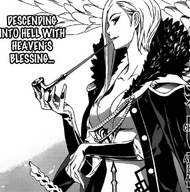 Evangeline (エヴァンジェリン, Evuanjerin; in the English "Eva Marie") is a pirate and the Captain of the Seraphim Pirates. Evangeline is a cold hearted and merciless woman who is feared by her moniker as "Guillotine Evangeline" (断頭台 エヴァンジェリン, Dantōdai Evuanjerin) for her tendency to behead her foes and display their heads on the figurehead of her ship.
Vote for a future featured article!
Main article: Evangeline
Ad blocker interference detected!
Wikia is a free-to-use site that makes money from advertising. We have a modified experience for viewers using ad blockers

Wikia is not accessible if you've made further modifications. Remove the custom ad blocker rule(s) and the page will load as expected.