This article is property of Mewtwo. Please do not edit this article without my permission. If you wish to use or change this article in any beneficial way, please discuss with me
"
Hop on board all you miserable lives that humans don't accept! Come on this ship of mine and I'll tell you what we'll have; we'll have a party!
"

—Robin's welcoming speech to new recruits of Monster Party
Robin Goodfellow
Kanji

ロビン.グドペロー

Rōmaji

Robin Gudoperō

Alias

Experiment Puck (試作パク Shisaku Paku)

Characteristics

Race

Rabbit(Originally human; turned through Awakened Zoan)

Gender

Male

Age

18

Height

6'0(Rabbit) 5'8(Estimated Human Height)

Weight

71kg

Birthday

May 29

Hair Color

White(Fur)

Eye Color

Red

Blood Type

B

Professional Status

Affiliation
Previous Affiliation
Occupation
Previous Occupation

Experiment Subject

Team
Previous Team

Vegapunk's Lab

Partner(s)
Previous Partner(s)

Vegapunk(Forced)

Base of Operations

Personal Status

Status

Active

Relative(s)

Unnamed

Bounty

45,000,000

Powers & Abilities

Devil Fruit
Weapons

Ninjingiri (人参錐 Carrot Drill)

Haki

Robin Goodfellow (ロビン.グドペロー Robin Gudoperō) otherwise known as Experiment Puck (試作パク Shisaku Paku) is a former experiment of Vegapunk in regards to his research into the effects of Zoan Devil Fruit, eventually coming to the conclusion known as the Awakened Zoan Devil Fruit. As one of the first individuals to have been "successfully" imparted with an Awakened Zoan, he is also one of the most experienced in its uses and the like.
After his time in captivity, Robin sought to help others much like himself who were ostracized from the dominant human species. On his travels, he eventually formed his own Pirate Crew now known as Monster Party, consisting solely of beasts and non-humans.
Due to his status as a Pirate Captain, as well as a renegade experiment of Vegapunk's lab with many secrets of the Marines in his hands, Robin is declared as a criminal of considerable threat. His bounty, as a result of his recent uprisings, is a plentiful

45,000,000 for a first bounty.
Appearance
Edit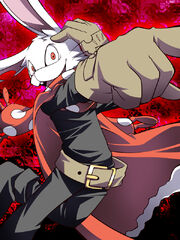 Personality
Edit
Relationships
Edit
Powers and Abilities
Edit
Physical Prowess
Edit
Martial Arts
Edit
Marksmanship & Weapons
Edit
Devil Fruit
Edit
Haoshoku Haki
Edit
Busoshoku Haki
Edit
Behind the Scenes
Edit
Ad blocker interference detected!
Wikia is a free-to-use site that makes money from advertising. We have a modified experience for viewers using ad blockers

Wikia is not accessible if you've made further modifications. Remove the custom ad blocker rule(s) and the page will load as expected.